Frasers Suites Doha Doha, Qatar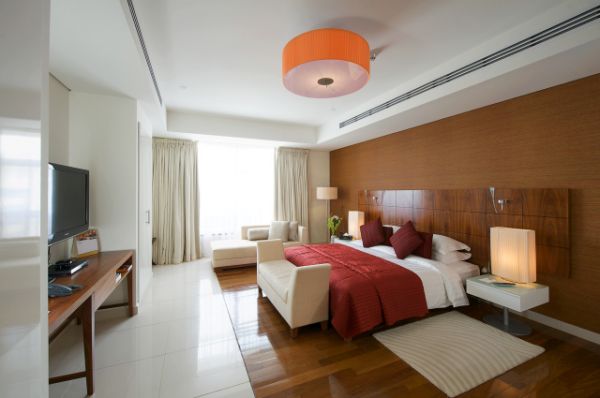 Customer reviews of Frasers Suites Doha


1 customer(s) have rated this apartment 0 / 5.
Read customers' reviews review this apartment
from QAR 800 per apartment per night
Max guests:

6
Minimum stay:

30 nights
Nearest station:
Contemporary Italian furniture
Fully-equipped kitchens
Dishwasher (except studios)
Air-conditioning
Daily housekeeping service
Direct dial telephone with voicemail
High-speed wireless internet
LCD TV, satellite, DVD
Sound system with iPod dock
Washing machine and dryer
Fraser Suites Doha has the perfect location on Doha Corniche, a magnificent waterfront cluster of towering skyscrapers and glittering coastline. Conveniently situated a five-minute drive away from the business district of West Bay, our deluxe apartments are close to major corporate and government offices and within walking distance of the Museum of Islamic Art and lively Souq Waqif with its restaurants and cafés. Doha International Airport, Doha Exhibition Center, The Pearl, Villagio Shopping Mall and Doha Golf Club are all within a ten-minute drive of these conveniently located apartments in Doha, Qatar.

Relish the cool, contemporary interiors of our luxurious Doha apartments, featuring Italian furniture, dark oak floors, fully equipped kitchens and cutting-edge technology. With 138 apartments spread over 14 floors of a gleaming modern building, you are assured space, peace and privacy at Fraser Suites Doha – accommodation which boasts not only comfort but service and style.

Swoop up to your apartment in a panoramic glass lift, overlooking the gleaming skyscrapers and bold modern architecture of West Bay. Corporate guests may wish to book an apartment on this luxury Doha hotel's executive floors and enjoy use of a VIP lounge with Nespresso coffee machine.Whether you are in Doha for business or pleasure, alone or with family, Fraser Suites Doha has a luxury apartment to suit your needs.
Rates from
Apartment type
Max guests

Nightly rates QAR
Apartment description
Studio deluxe
2
800
City View - King Size Bed with attached
bathroom/ Fully equipped kitchenette
Studio premiere
2
916
Sea View - King Size Bed with open
living area/ attached bathroom / Fully
equipped kitchenette with dining area
1 bedroom deluxe
2
1151
City View - King Size Bed/ attached
bathroom / Living & Dining Area/ Fully
equipped kitchen
1 bedroom premiere
2
1352
Sea View - King Size Bed with attached
Bathroom & guest wash room/ Living &
Dining Area & Fully equipped Kitchen
2 bedroom deluxe
4
1620
City View - 1 King Size Bed & Twin
Beds with attached Bathrooms / Living &
Dining Area & Fully equipped Kitchen
2 bedroom premiere
4
1720
Sea View- 1 King Size Bed & Twin Beds
with attached Bathrooms & guest wash
room/ Maid's cum storage room/ Living
& Dining Area & Fully equipped Kitchen
3 bedroom deluxe
6
2093
Sea View- 2 King Size Beds & Twin
Beds with attached Bathrooms & guest
wash room/ Living & Dining Area /
Maid's cum Storage room with attached
bathroom/ Fully Equipped Kitchen
3 bedroom premiere
6
2387
Sea View- 2 King Size Beds & Twin
Beds with attached Bathrooms & guest
wash room/ Living & Dining Area /
Maid's cum Storage room with attached
bathroom/ Fully Equipped Kitchen
Please note that the above daily rates per night, per apartment and subject to room availability